Building Typology of the Future, Analysed from the COVID-19 Lens. Futureproofing is designing something so that it can still be used in the future, even when technology changes, as defined by Cambridge University Press. FutureProof will research architectural changes made during COVID-19.
This project is funded with the 2021 School of Cities Urban Leadership Fellowship and Academy Award. The School of Cities, University of Toronto.
This project was presented at the School of Cities Urban Leadership Fellowship and Academy Virtual Research Festival.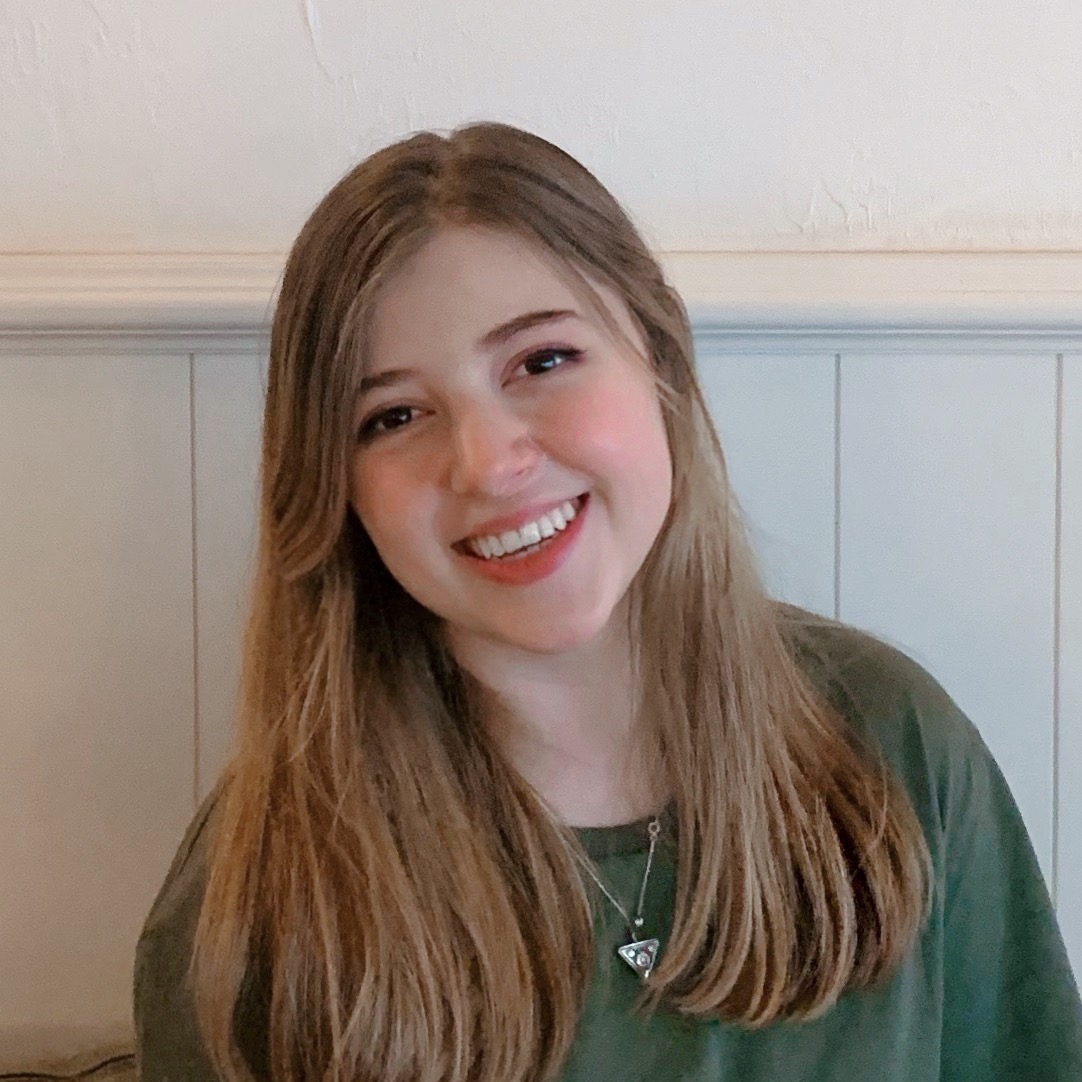 I'm Ecem Sungur, an architecture student specializing in design and sustainability in cities.
The world is still in the midst of a pandemic that has spread wider and faster than any in human history – affecting families, communities, and nations across the globe. In such a time, it is essential to learn how to improve our buildings and cities to be more adaptive and resilient to future crises.
This project will provide its readers a guide on pandemic responses, adaptive architecture and future-proofing through three main processes:
An Overview of the Pandemic: Lifestyle Changes
Having started showing significant effect around March 2020, governments all around the world had to take extensive measures in order to manage the COVID-19 pandemic. As a result of these drastic changes, people's lifestyles had to shift accordingly – from physical health to social interactions. How did our way of living change?
Lockdowns and Closure of Public Spaces
Stay-at-home orders and limited contact with the outside world have affected the stability of life.
Though not tied only to lockdowns, 55% of survey respondents have experienced an increase in mental health issues since the onset of the pandemic.
Working from Home and Remote Learning
With homes becoming schools and offices, there's been added stress for families - especially families with school-aged children.
78% of survey respondents said quarantine helped them value relationships and 34% said they feel closer to family.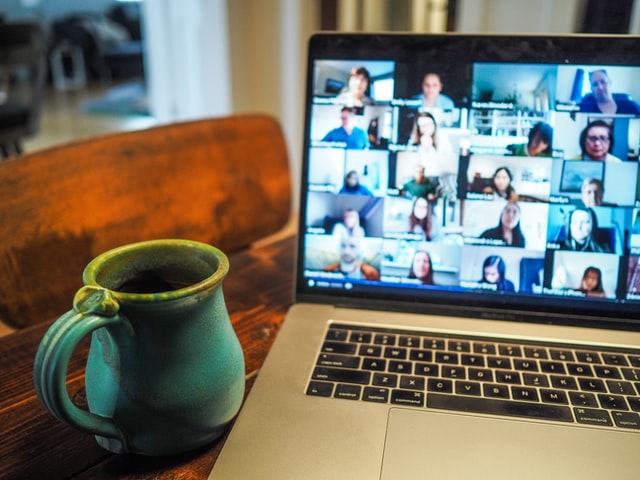 With interactions being limited, the internet became the primary source of contact for most people.
78% of the respondents said that they won't shake hands with people through the end of the year and only 13% said they will hug a non-family member.
Travel restrictions and Limited Mobility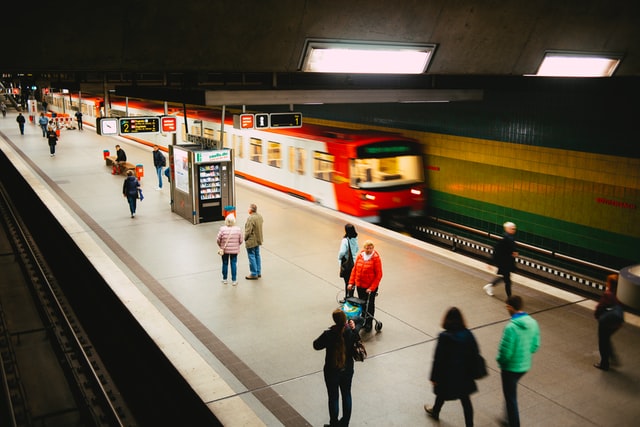 With increasing health concerns, non-essential travel has been limited.
Only 28% of survey respondents said they planned to spend the holidays how they normally do.
Personal Protective Equipment (PPE)
The correct use of PPE like non-medical masks is required to decrease the possibilities of infection.
While PPE was mostly used by healthcare workers previously, it became much more common with the pandemic.
Data taken from Parade and Cleveland Clinic (June 2020)
of respondents have adopted some type of lifestyle change since the pandemic began, whether that's been getting more exercise, making positive dietary changes, or trying to get more sleep.
New Lifestyle, New Needs from Architecture and Responses
All the abovementioned changes and more have affected our needs from architecture. With a rapidly changing environment, we had to take fast action to fulfill those needs. Therefore, these needs were not only essential, but they were also under a time constraint, which highlights the importance of preparedness for crises.
The need to design and build fast in emergency situations has been highlighted with the pandemic. The demand for more facilities like hospitals, quarantine centers, testing sites, and temporary lodgings increased as the healthcare industry became overwhelmed.
Possible Solution: Modular Construction and Adaptive Reuse
With the need for more spaces in such a fast time, modular construction became increasingly common. Modular construction is the process where buildings are assembled through prefabricated modules. This makes the construction process faster and easier.
Similarly, the need for speed required the reuse of existing structures to serve new purposes. Adaptive reuse is a fast and sustainable option to creating new spaces (especially for aging cities). Along with modular construction, it's proven to be very effective in creating emergency facilities.
Other examples could include pop-up recovery units that are rapidly deployable or shipping containers converted to biocontainment pods and modular critical care units that can be easily transported.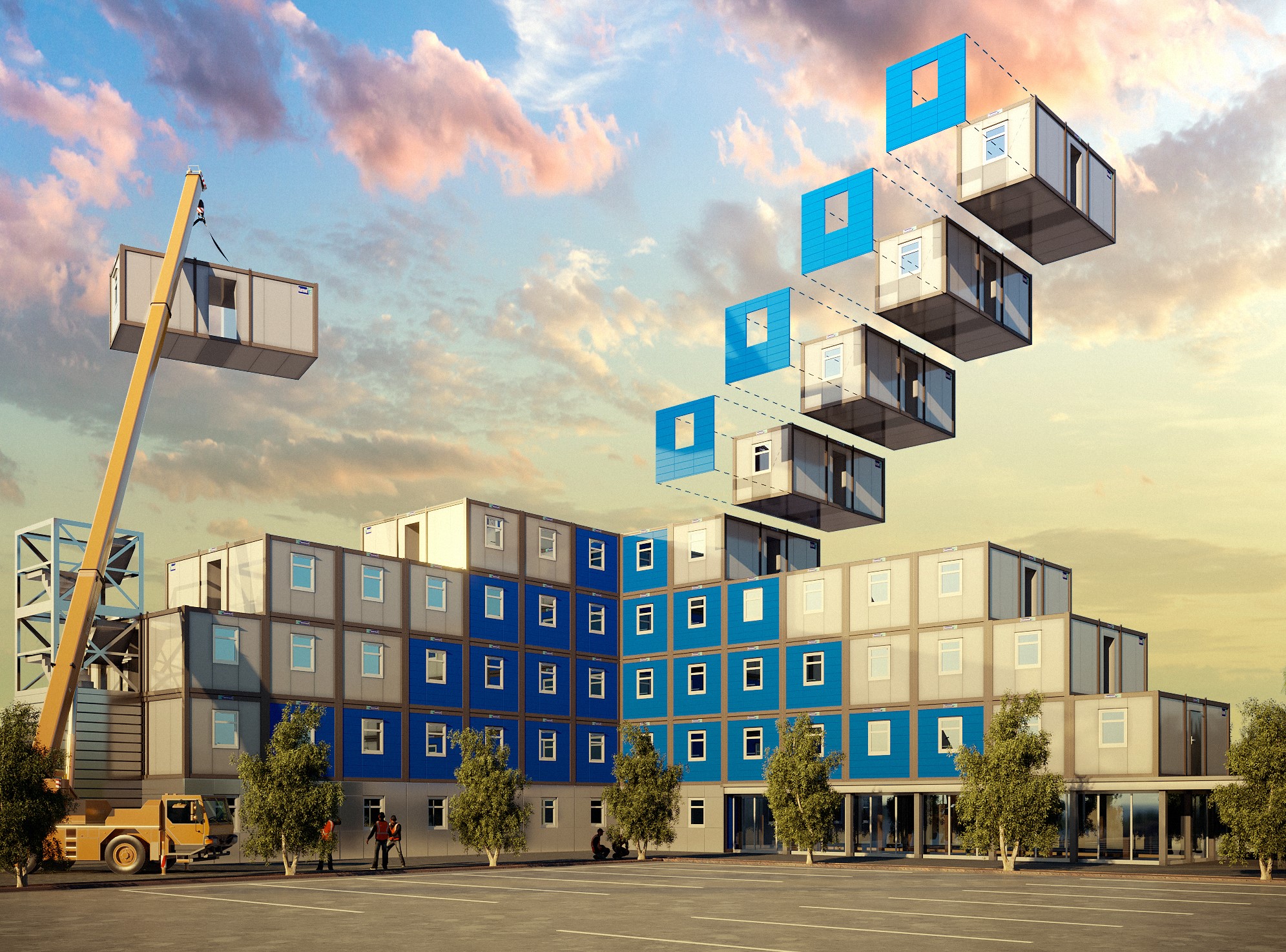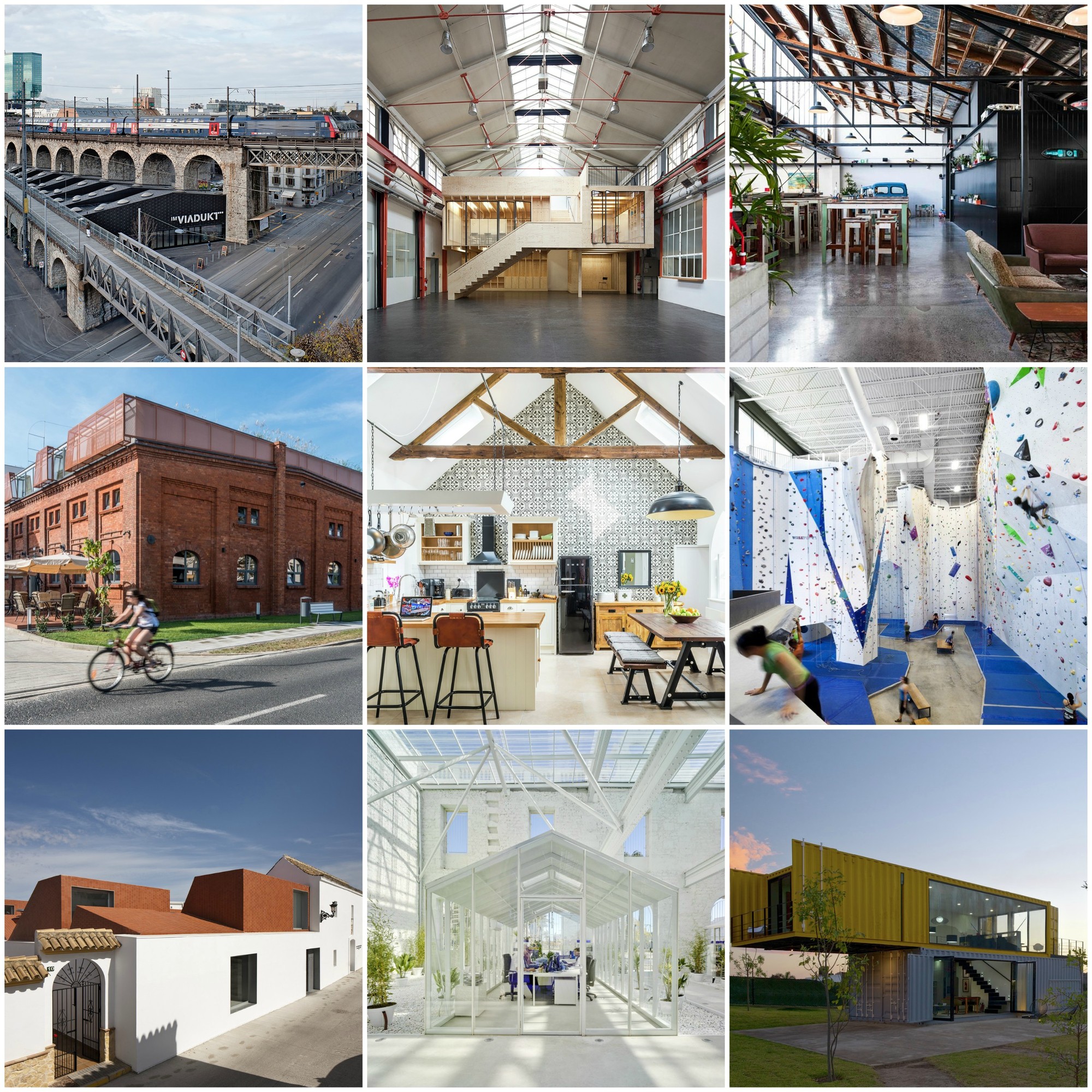 Especially in large cities, social distancing in open and closed areas is needed. Therefore, places that can provide this distanced organization became more in demand. Since closed spaces pose a greater threat for the virus to spread, stores have either been continuing their services outdoors or have organized their seats according to social distance measures.
Possible Solution: Implement Social Distancing in Design
Even after the pandemic, social distancing should be implemented within designs. For instance, Studio Precht proposed a social distance oriented park, allowing people to be outdoors. Thus, in future emergencies, such parks would continue to offer spaces of refuge and serenity in urban areas.
Adaptability has become an increasingly evident need during the pandemic. Flexible design has proven to be essential – whether that's reorganizing one's home that's better suited for working remotely or creating make-shift emergency facilities.
Possible Solution: Adjustable Buildings
An Australian architectural firm, Woods Bagot, is already looking towards the future with their AD-APT system. It includes a series of adjustable walls and screens that would be used to segment an open-plan apartment into various dedicated spaces. The same approach could be made in office buildings.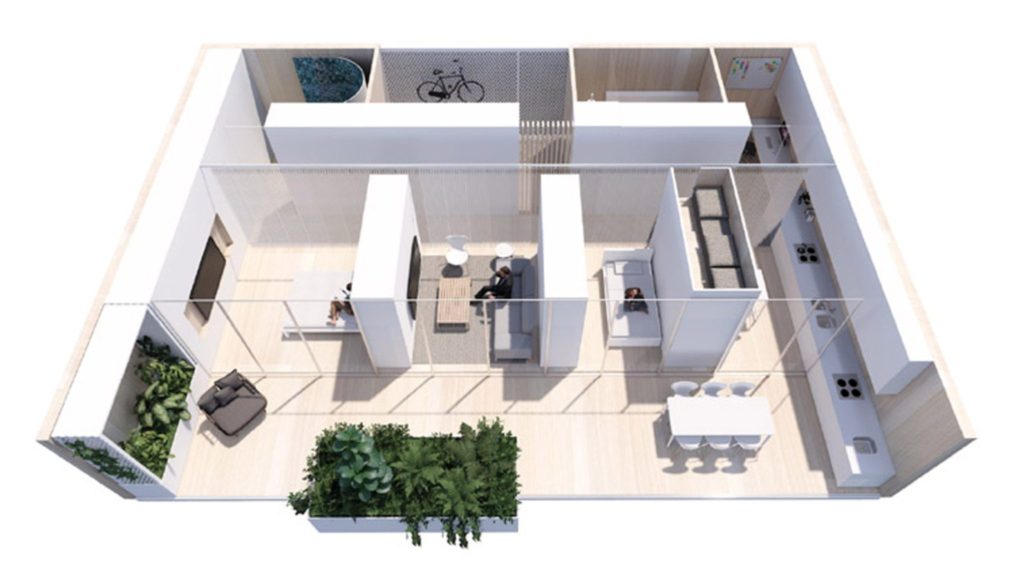 Self-isolation and staying at home made the need to form connections more evident. The connection with people, nature, and surroundings is more desired than ever. Instinctively, the human brain links the color green to nature and vegetation, and in nature, one usually finds freshness, health, and tranquility. 
Possible Solution: Utilize Green Spaces Indoors
Besides painting the walls, interior designers brought the outdoors inside by using biophilia as a source of inspiration. Incorporating natural greenery within designs promotes well-being, health, and emotional comfort – which also helps to reduce stress.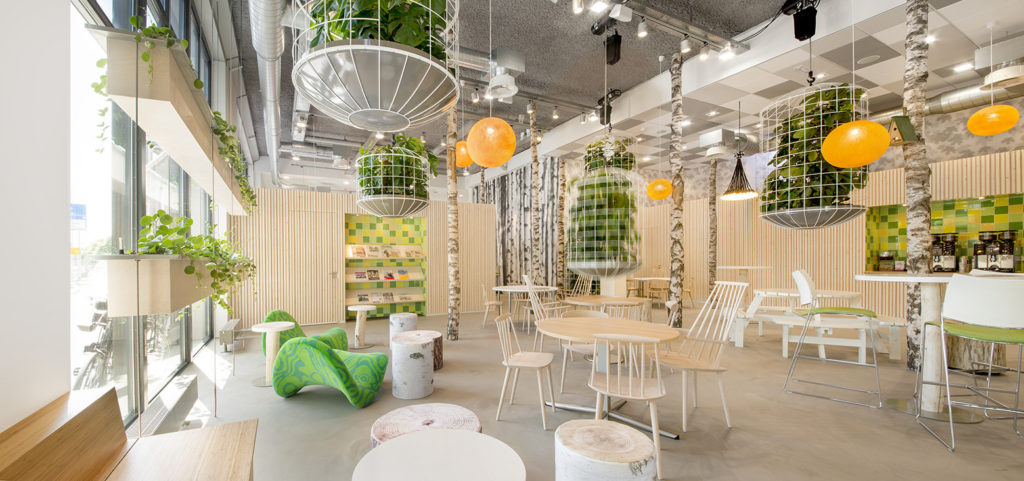 Pandemic Architecture Typology
Taken from: Antivirus-built environment: Lessons learned from Covid-19 pandemic by N.A. Megahed and E.M. Ghoneim
Examples from: Antivirus-built environment: Lessons learned from Covid-19 pandemic by N.A. Megahed and E.M. Ghoneim
Vic hospital, Melbourne, Australia
 A semi-permanent resuscitation unit has been built at the hospital. The unit comprising a prefabricated semicontainerized two-story COVID-19 specific-purpose hospital in its car park.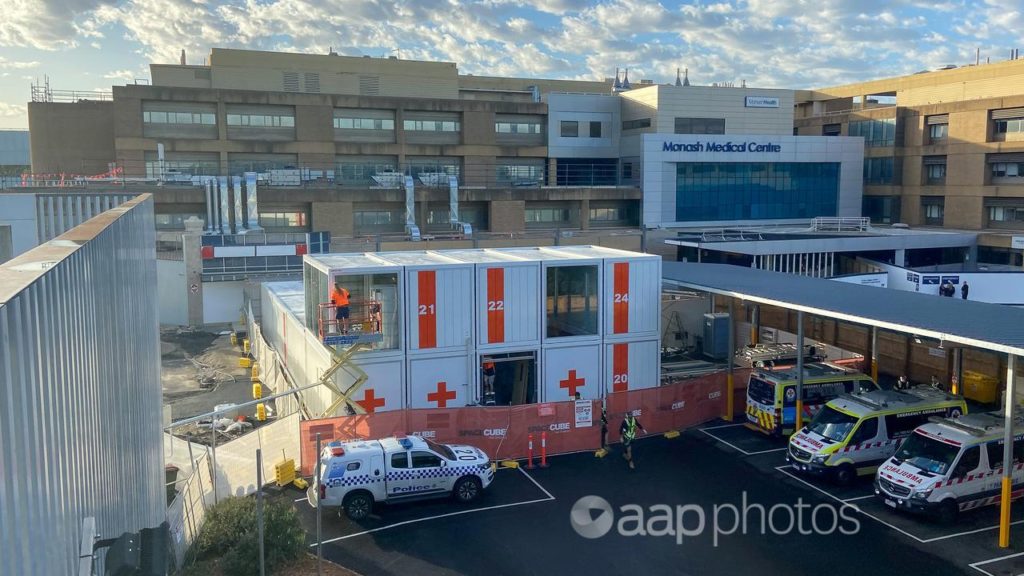 Leishenshan hospital, Wuhan, China
A 1,600-bed hospital constructed on a parking lot from prefabricated modules placed into steel skeletons above concrete foundations.
Temporary hospital, Javits Center, New York
New York City's Javits Convention Center turned into a 2,910-bed temporary field hospital for COVID-19 patients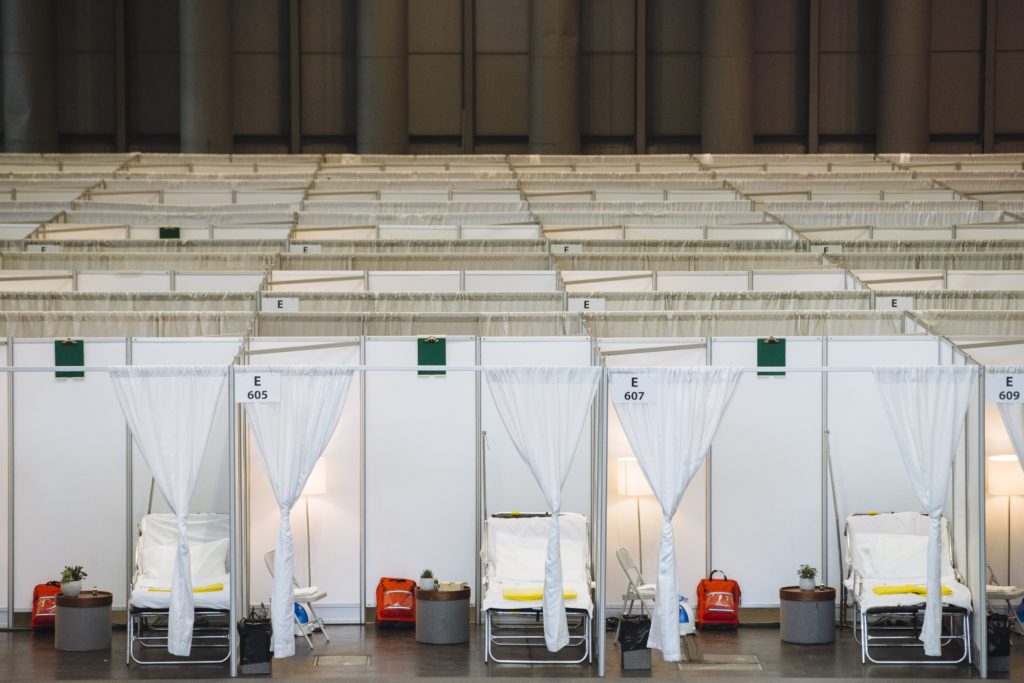 The Nightingale Hospital, London, UK
Excel Exhibition Centre turned into a 500 -bed hospital equipped with ventilators and oxygen with the capacity increased to fight COVID-19.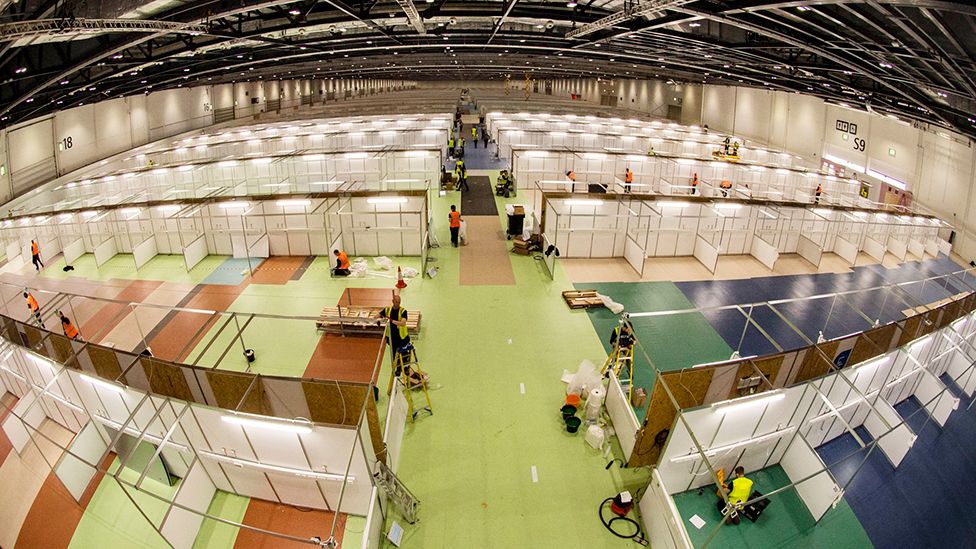 Inflatable Emergency Hospital, Pachuca, Mexico
The hospital designed to be the quickest response to an immediate care center. A 1,000-square-meter structure prepared to see up to 80 COVID-19 patients daily.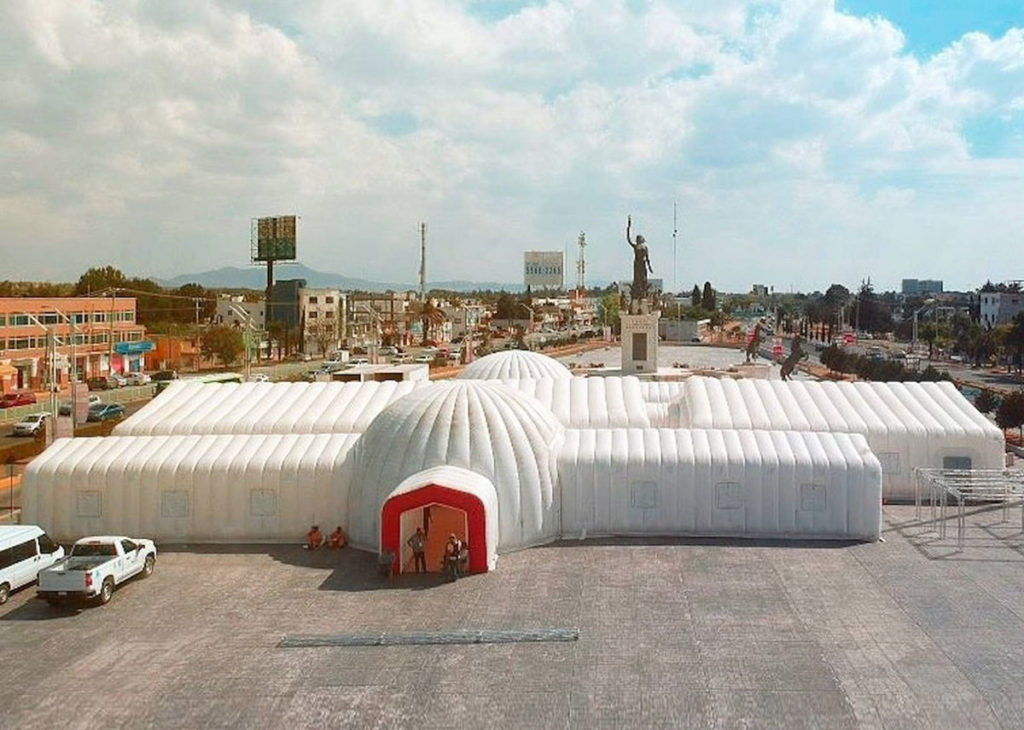 UCSF Medical Center, San Francisco Bay, USA
The hospital sets up two outdoor tents to prep for a possible influx of COVID-19 patients which employed as triage and emergency room extensions, waiting, and treatment areas.
Elements like greater natural light, improved ventilation, fewer toxic substances and the incorporation of plants and other natural materials are considered.
Specific Features: Case Study
Taken from: MASS. Designing Senior Housing for Safe Interaction.
This case study from Mass looks at achieving infection control principles while offering solutions that allow people to safely come together by looking at a Senior Housing. By exploring this case study and how to improve spaces, we can apply them to our current and future buildings.
Hover over the labels to see areas of improvement.
Have a rigorous system of checking in visitors. This will aid in contact-tracing if an infection is discovered in the building.
Adapt space where possible to accommodate additional services and provide basic amenities such as a small grocer or health screening station within the building.
Create a changing and storage area to provide space for staff to don and doff PPE separate from residents.
Research states the elevator buttons require enhanced cleaning protocols. Install hand sanitizer at elevator lobbies and where possible make elevator buttons larger and more accessible so they can be pressed with an elbow or cane.
Create buffer zones where people may be queuing –  class for shared restrooms, mail boxes, elevators to allow for distancing.
Provide space for cleaning of packages. This should occur within the lobby to avoid unnecessary exposure within tight circulation paths such as hallways and elevators.
Decorate each mail box for easy identification. This not only allows the resident to extend their sense of ownership, it also reduces the likelihood that their mailbox will be touched by accident.
Encourage use of stairs where possible as an alternative to elevators.
Look for ways to reduce use of high touch areas, such as elevators, by setting limits on the number of people able to use the elevator at the same time and improving existing stairs to encourage use of other means of egress.
Examples from: Residential Architecture in a Post-pandemic World, Dirk HR Spennemann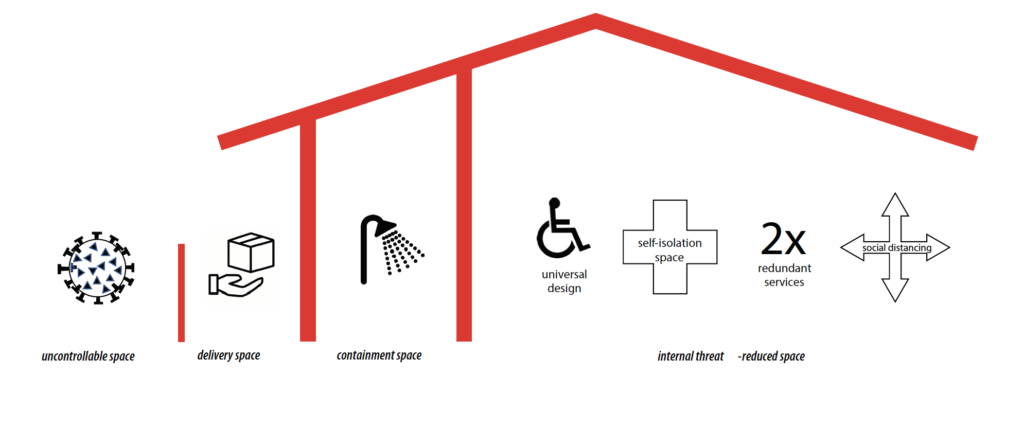 The Containment Space
"In a pandemic environment, this creates a permeable zone that commingles the exterior and interior. To pandemic-proof residential buildings, buffer or containment space needs to be established between the uncontrollable external world and the internal personal universe."
Having a containment space would not only limit the possibility of infection, it would also help structure the circulation within the building itself.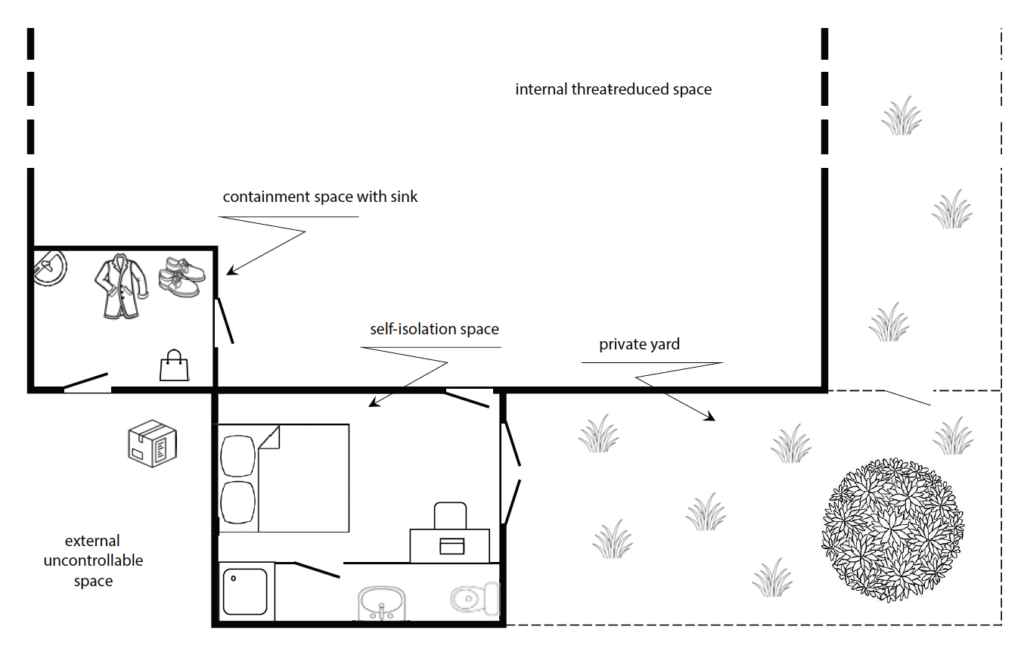 The Threat-Reduced Internal Residential Space
An internal residential space would be threat-reduced with space suitable for self-isolation and communal spaces accessible to visitors. Spaces like these were high in demand during the start of the pandemic.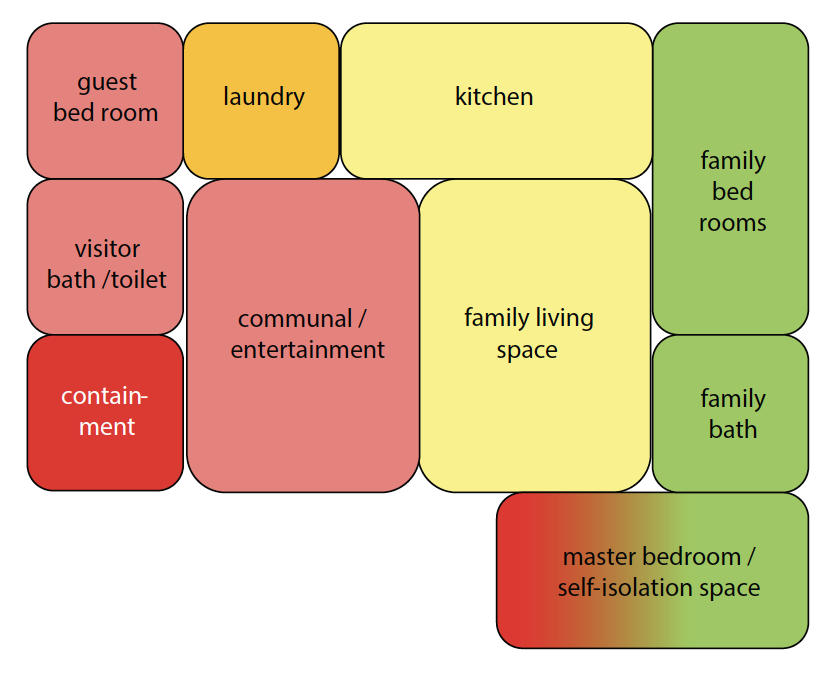 Spatial and Social Distancing
The image depicts a common family housing where areas with a high risk of infection are colored in red, whereas safe zones are colored in green.
Taken from: MASS. Designing Spaces for Infection Control
Even though the pandemic has made us change our way of living at the time, it will most definitely impact the way we design our buildings in the future. This will also have an obvious impact on the way we live in cities. Therefore, it's important to look into the ways architecture could change after the pandemic. Below are some questions this project looked into, answered by architects.
"The pandemic, to me, exposed the need for businesses, designers, creators, even entire countries, to be able to adapt. I see the same challenge being posed in this realm of architecture and design – as creators we must be adaptable and fluid in our skills and our practices, but the places and structures we're creating need this ability as well."
"I think the coronavirus pandemic has made people realise that having architectural spaces that are secure and safeguarded is extremely important. In times past, the primary function of architectural structures was to shelter human beings from the elements and predatory animals. In the future, protecting people from viruses will be one of the important functions of architecture.
This aspect will be paid more and more attention to in design. For example, the need to revise the distribution ratio of open space and private space in spatial layouts will promote the forming of new design specifications; and the need for sterilization and sterilization technology in architectural materials will instigate the production of new products. This will undoubtedly lead to changes in the way future buildings are designed."
"Long-term, interiors and architecture will have to be created with hygiene and practicality at the forefront. Both vision and design details will need to be adapted to ensure space adheres to everyday living, with the additional demands highlighted by Covid in a post-pandemic world."
"I think the coronavirus pandemic has made people realise that human beings are vulnerable to nature and that we cannot ignore the impact of the earth's environment on our lives. In the past, people were content to stay in air-conditioned rooms or a comfortable car, without giving a second thought to the environment or nature."
"I believe that one long term impact of coronavirus will be that we'll value places that bring us together a little bit more. But I also believe we'll be looking for places that better reflect the true diversity of our society."
Taken from: Dezeen, Interview with Architects and Designers
The changes in architecture not only affect construction, but also cities. Therefore, it's important to also think about the urban effects and approaches to possibly future-proof our cities with adaptable, sustainable, and resilient architecture.
It's not possible for us to remake everything in our cities, however, as our world becomes more interconnected, we need to utilize new options that are more responsive, holistic, and flexible to better address the pandemic. Utilizing these options will also help us tackle other urgent issues like migration, social disconnection, inequality, climate change, pollution, and much more. In order to address such complex issues, we need to improve our ways of building and planning.
I believe the pandemic was a good opportunity for us to reconsider our preparedness for crises in our cities. COVID-19 reminded us that if we prepare our cities according to possible crises, we can lessen the damages made to our communities. So, we should be more protective instead of reactive – and this is why we need future-proofing.
Refereneces
"Commentary: Past Pandemics Changed the Design of Cities. Six Ways COVID-19 Could Do the Same." Los Angeles Times. Los Angeles Times, April 22, 2020. https://www.latimes.com/entertainment-arts/story/2020-04-22/coronavirus-pandemics-architecture-urban-design. 
"Future of Cities Will Shape Post-COVID-19 World." World Bank. Accessed June 23, 2021. https://www.worldbank.org/en/news/feature/2021/03/02/future-of-cities-will-shape-post-covid-19-world. 
"POST-PANDEMIC ARCHITECTURE." Natura, October 23, 2020. http://www.naturadergi.com/anasayfa/post-pandemik-mimarlik/?lang=en. 
"Role of Architecture in Fighting COVID-19." MASS Design Group. Accessed June 23, 2021. https://massdesigngroup.org/covidresponse. 
"Urban Solutions: Learning from Cities' Responses to COVID-19′." UNESCO, July 23, 2020. https://en.unesco.org/urban-solutions-Learning-from-cities-responses-to-COVID19. 
Ak, Özlem. "Pandemi Mimarisi." TUBITAK Science and Technical Journal (2020): 33-45.
Bahadursingh, Nathan. "8 Ways COVID-19 Will Change Architecture – Architizer Journal." Journal, May 6, 2021. https://architizer.com/blog/inspiration/industry/covid19-city-design/?utm_source=Architizer&utm_campaign=3d783776f2-EMAIL_CAMPAIGN_2018_11_01_01_02_COPY_01&utm_medium=email&utm_term=0_da3caaef3d-3d783776f2-24826007. 
Garofalo, Jeffrey A. How Can Architecture Make Communities and Urban Environments More Resilient to Disease?. NAVAL POSTGRADUATE SCHOOL MONTEREY CA, 2020.
Harrouk, Christele. "Rockwell Group Releases Design Strategies for Outside Dining Post COVID-19." ArchDaily. ArchDaily, June 4, 2020. https://www.archdaily.com/940974/rockwell-group-releases-design-strategies-for-outside-dining-post-covid-19. 
Harrouk, Christele. "Studio Precht Imagines a Park for Physical Distancing During the Coronavirus Pandemic." ArchDaily. ArchDaily, April 17, 2020. https://www.archdaily.com/937801/studio-precht-imagines-a-park-for-physical-distancing-during-the-coronavirus-pandemic. 
Megahed, Naglaa A., and Ehab M. Ghoneim. "Antivirus-built environment: Lessons learned from Covid-19 pandemic." Sustainable Cities and Society 61 (2020): 102350.
Miller, Kyle. "Parade/Cleveland Clinic: Americans Embracing Healthy Changes Amid COVID-19 Pandemic." Cleveland Clinic Newsroom. Cleveland Clinic Newsroom, June 3, 2021. https://newsroom.clevelandclinic.org/2020/09/25/parade-cleveland-clinic-survey-shows-americans-embracing-healthy-lifestyle-changes-amid-covid-19-pandemic/. 
Pisano, Carlo. "Strategies for post-COVID cities: An insight to Paris En Commun and Milano 2020." Sustainability 12, no. 15 (2020): 5883.
Schallom, Rachel, and Fortune Staff. "One Year Later: 15 Ways Life Has Changed since the Onset of the COVID Pandemic." Fortune. Fortune, March 12, 2021. https://fortune.com/2021/03/09/covid-pandemic-how-life-has-changed-coronavirus-one-year-later-march-2020/. 
SEVER, İ̇ldem AYTAR. "Covid-19 Pandemisi Sonrası Normalleşme Sürecinde Mobil Mekânların Mimari Tasarım Ölçütleri ve Bir Çözüm Önerisi." Mimarlık ve Yaşam 5, no. 2: 477-485.
Sharifi, Ayyoob, and Amir Reza Khavarian-Garmsir. "The COVID-19 pandemic: Impacts on cities and major lessons for urban planning, design, and management." Science of the Total Environment (2020): 142391.
Spennemann, Dirk HR. "Residential Architecture in a post-pandemic world: implications of COVID-19 for new construction and for adapting heritage buildings." Journal of Green Building 16, no. 1 (2021): 199-215.
Stouhi, Dima. "Color Beyond Aesthetics: The Psychology of Green in Interior Spaces." ArchDaily. ArchDaily, February 19, 2021. https://www.archdaily.com/957104/color-beyond-aesthetics-the-psychology-of-green-in-interior-spaces.
Studio, RISE Design, and RISE Design Studio. RISE Blog, June 9, 2020. https://risedesignstudio.co.uk/blog/index.php/2020/06/09/architecture-and-covid-19/. 
Tingley, Kim. "How Architecture Could Help Us Adapt to the Pandemic." The New York Times. The New York Times, June 10, 2020. https://www.nytimes.com/interactive/2020/06/09/magazine/architecture-covid.html. 
Tokazhanov, Galym, Aidana Tleuken, Mert Guney, Ali Turkyilmaz, and Ferhat Karaca. "How is COVID-19 experience transforming sustainability requirements of residential buildings? A review." Sustainability 12, no. 20 (2020): 8732.
Tom Ravenscroft | 11 March 2021 Leave a comment. "Norman Foster, Virgil Abloh and More Share Their Thoughts on the Global Impact of Covid-19." Dezeen, March 30, 2021. https://www.dezeen.com/2021/03/11/coronavirus-pandemic-impact-norman-foster-virgil-abloh-sevil-peach/. 
World Health Organization. "COVID-19: make it the last pandemic." (2021).
World Health Organization. Strengthening preparedness for COVID-19 in cities and urban settings: interim guidance for local authorities. No. WHO/2019-nCoV/Urban_preparedness/2020.1. World Health Organization, 2020.
Written by Sophie Davies, Freelance Journalist. "This Is How Coronavirus Could Reshape Our Cities Forever." World Economic Forum. Accessed June 23, 2021. https://www.weforum.org/agenda/2020/05/coronavirus-change-cities-infrastructure. 
Yılmazsoy, B. K., and Kırkık Aydemir. "KP & Akdemir, Ç.(2021). Tarihi süreçte salgın hastalıklar ve değişim: Covid-19 sonrası mimari ve kent." Journal of Social and Humanities Sciences Research 8: 66.
Students in the Spotlight: Ecem Sungur
"Students in the Spotlight" is a conversation series with members of the SofC Urban Leadership Fellowship and Academy Program. In this conversation, I answered the below questions:
What are your research and engagement interests?
What has motivated your interests and journey? How do you hope to make a difference?
What's the latest project you have been working on that you would like to share with the SofC audiences?
As a student, researcher and or activist, what have you learned from the COVID-19 pandemic and its global impact? How do you envision post-pandemic recovery? What do you hope for?
Please share with us your experiences at the SofC. How do you think being a member of the SofC Urban Leadership Fellowship and Academy Program has contributed to your scholarship and added to your experience as a student?